Contact Us!
Sales & Bulk Order Inquiries:  (Normally staffed 9am-9pm PST)
Existing Customer Support:
24/7 Live Chat – Blue bubble at the bottom right of every page.  We have a true 24×7 live chat staffed by onsite staff members. 

This is always the fastest method to get ahold of us instantly.

Billing Helpdesk – Current customer with billing questions?  Use this form to track and manage your support tickets with ProxyGuys sales, billing & support team.
Telegram Users
Join our NEW ProxyGuys channel for exclusive flash sale coupons
only posted within this group.  To join simply click HERE.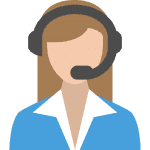 Address
115 Technology Dr,
Irvine, CA 92618