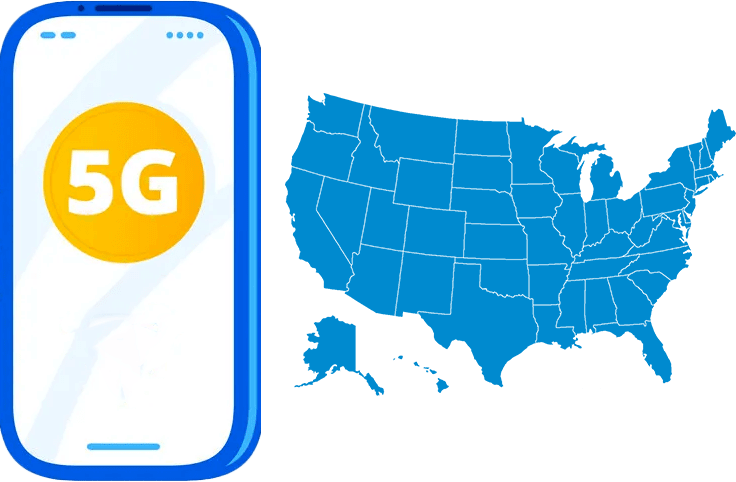 USA 5G Mobile
Subscription Terms To Meet Any Budget
We have multi-location and single-location proxy plans that start at just $20. All of our 5G proxies include unlimited premium bandwidth (40-60Mbps) and unlimited instant IP changes. With a multi-location license, you can access any 5G modem in our 26+ premium USA cities to ensure you have the best geo-IP targeting options possible. Our bulk proxy plans include a 25% discount per license and we can offer you even better pricing on larger orders.
Start A Paid Trial

Our Features
We truly believe what we are selling and stand behind our enterprise level services. Checkout just a few of our premium features
PREMIUM SUPPORT
We staff our live chat system 24×7 with real USA based support staff, not bots! We also offer support via Skype, Telegram, Discord and Slack.
100% LEGAL & ETHICAL
No hacked or virus-infected computers or phones. Our premium services are offered through our enterprise level contracts with mobile carriers.
NO LOGS OR LEAKING YOUR INFORMATION
We do not keep or store any logs and our proxies do not leak any of your real information.
FAST SETUP TIMES!
Buying 1 or 50, we can set up your order in about 10 minutes regardless of the time of day. Click "Blue" chat icon in bottom right hand-corner of every page.
IP WHITELISTING
We offer both IP Whitelisting or User:Pass Authentication for all plans except Rotating Residential (IP Whitelisting only)
COMPETITIVE PRICING
We know what our competition charges and offers and have priced ourselves accordingly to not only be an industry leader in products & services but also in pricing.

Free Google Chrome & Firefox Plugins
Download our totally free plugins for Google Chrome or Firefox which will make changing IPs, cities, or states quick and easy! If you need help installing our Google Chrome plugin watch this quick video tutorial: HERE

Frequently Asked Questions
Below you can find some of the most commonly asked questions our support representatives answer. If you still have questions before or after placing an order with ProxyGuys please click on the blue live chat icon on the bottom right of every page on our website to speak to a live support agent 24/7.
ARE THERE ANY BANDWIDTH LIMITS?

Absolutely not!  On our multi-location proxy licenses, you get unlimited 5G bandwidth without any throttles or limitations, something no competitor of ours can offer, especially at our pricing.

HOW MANY THREADS ARE ALLOWED PER PROXY/VPN?

Keep in mind our proxy services are not meant to be used for running 50-500 threads in ScrapeBox, there are cheaper low-quality proxies for that.  Our proxies are designed for people to actually use them individually for various purposes (FB, G00gle, IG, surveys, Paypàl, etc).   Technically speaking, we put no thread limit, it's just however many you purchase for your needs.

CAN I PURCHASE ADDITIONAL BANDWIDTH?

There is no need as these proxies are unlimited bandwidth. If you are using Single Location and run out of bandwidth then you will need to upgrade to the Multi-Location plan.

WILL THESE WORK WITH SCRAPEBOX OR OTHER SEO TOOLS?

We have proxies in virtually all major cities & regions, chances are if it's a large city we have it! The Proxy Setup drop down menus will help guide you to the locations that you need

HOW MANY IPS DO I GET PER PROXY?

When you connect to a location you get 1 IP. That IP is able to be changed an unlimited amount of time within that location. You can also connect to any other location at any time and get new IP as well. There is no limit to how often you can change your IP address or location but it's 1 location and 1 IP at a time. If you need more than 1 IP at a time you would need to purchase more proxy/VPN licenses. We offer bulk rate pricing for over 5 proxy/VPN licenses.

Absolutely not.  We are not performing "man in the middle" proxy services.   Your proxy/VPN is going directly through the mobile carrier as if you were on a regular mobile phone.  We have no access to any logs.

ARE THESE IPS ALREADY USED & ABUSED? WILL THEY WORK FOR XXXX.COM SITE?

Our access to well over 600k – 900k mobile IPs in each location allows us to offer you premium high-speed mobile proxies that are fresh and new. We also know that the IP subnets roam around and so what you might have today might be different in 3 weeks.

CAN THIS BE USED ON MOBILE DEVICES OR JUST COMPUTERS?

Your mobile device should have a proxy setup in the network settings or there are lots of 3rd Party applications you can download and utilize the proxy/VPN IPs. We also have created several guides/videos to help you set them up on your devices. Visit our YouTube channel for more info.

ARE THERE ANY HIDDEN LIMITS?

Again we do not have access to any logs, we do not limit your bandwidth and we don't set thread limits so no there are not set limits with our proxies. Each proxy is dedicated to you and only you.  Remember these are enterprise level proxies, not illegal botnets.

HOW DO I USE THE SERVICE?

We will give you access to the portal to which you will have access to all locations. Once you connect to a location you will get a proxy IP:PORT and a username and password and VPN connection settings. You will input this into your Proxy software or Operating System. You can also choose to enable IP Whitelisting (proxy only) and enter your public IP or IP range to allow you to use the proxy without user:pass. You can visit our Getting Started guide for more detailed information.

WHAT MAKES THIS SERVICE WORTH IT?

The ability to switch IPs in the same location or switch to any location at any time. Every IP is dedicated and never shared with millions of other people.  The ability to keep your 5G Proxy IP for as long as you want (Our competitors force IP changes that kill accounts).

WHAT IS THE DIFFERENCE BETWEEN "FAST RESET" AND "HARD RESET"

By using our proprietary software, fast reset provides you with a method to change your IP in under 5 seconds! In the event that your dedicated 5G modem hangs or locks up, we provide access to a "hard reset" feature to reboot the modem. Hard resets take approximately 40 seconds.

IF YOU ADD MORE LOCATIONS WILL THE COST GO UP?

No. Cost will remain the same for as many locations as we add.

DO YOU HAVE API ACCESS AVAILABLE?

Yes. The API instructions are given on an as-needed basis, any customer can request API by contacting us on live chat.

HOW DO I ORDER? WHAT PAYMENT METHODS DO YOU ACCEPT?

Browse over to the order page: https://proxyguys.com/account/signup and place an order. Once we receive the order you should add us on Skype : live:sales_99703 and let us know you ordered.
Payment methods we accept are Paypal recurring payment and Cryptocurrencies.

DO YOU HAVE LOCATIONS OUTSIDE THE USA?

No. At the moment we are focusing our efforts on populating our modems in cities in the USA. Once we feel we are at a certain level we will then begin looking further abroad.

CAN I HAVE A STATIC PASSWORD FOR MY PROXIES?

Yes, we can set this up for you if you don't want each proxy location you switch to having a different password. If you would like to request 1 static password please email support@proxyguys.com and specify your proxy name (Ex: C47E-2019-05-18) and the password you would like and we will apply this change within 24 hours or reach out to our 24/7/365 live chat located in the bottom right-hand corner of the website.

Using a web browser and "Fast Reset" you can expect a new IP within 4-6 seconds.  Using our proxies in software you can expect to see a new IP in 2-4 seconds.   The difference is due to inherent delays in browsers processing the change.

WHAT EXACTLY DOES SINGLE LOCATION MEAN?

With Single Location, you get the same high-speed proxy but you just get access to only 1 of our locations and bandwidth is limited to 22gb per month. We will give you IP:PORT USER:PASS settings along with a URL to change the IP as many times as you need. You can also choose IP Whitelisting which allows you to use the proxy with just the IP:PORT. We would need your public IP to set this up. If you decide a location you've chosen isn't the one you want you can request a new location for $20. Please contact us for info.

WHAT IS "POOL UTILIZATION"?

Pool Utilization is simply how many modems are available in that particular location. Example would be if there are 50 modems in San Diego, CA and 25 people are connected to that location then the pool utilization will show 50% since half the modems are taken. If all 50 are taken then you'll see 100% meaning no open slots. We don't share modems with users so when you're connected you are the only one using that modem and IP.


Instant Account Setup
Whether you bought Static, Rotating, or Mobile Proxies we have created a user-friendly dashboard to manage all your proxies. We have several helpful articles and frequently asked questions in our help center. Our support is online 24/7/365 if you need assistance. Use our blue chat icon in the bottom right-hand corner of every page or use our help desk.
We accept PayPal & Crypto Currencies (BTC, ETH, LTC, etc) along with Visa/MasterCard for 5G Mobile & Crypto for Static & Rotating Residential.
Order Now